Please enjoy browsing this list of musicians available for your next performance. Use the drop down menu below to view by instrument or genre.
Please Submit your Performer Information
Jon Finn
Jon Finn
Contact
:
Jon
Finn
Biography
About the Band
Jon Finn – Guitar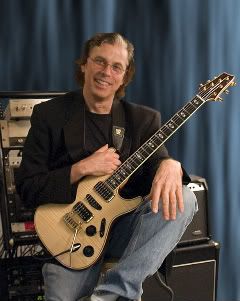 A guitarist since age six, Jon Finn has been a professional musician for most of his life. Joining the guitar faculty at Berklee College of Music in Boston in 1988, he started the Jon Finn Group later that same year. To date, they have two internationally released CDs, Don't Look So Serious(Legato Records 1994),Wicked (SEP Records 1998), several independent releases, and countless performances worldwide under their belts. For over three years, Jon wrote a monthly instructional feature for a national magazine called Guitar. Jon has also authored several books for Mel Bay Publications, Advanced Modern Rock Guitar Improvisation, One Guitar, Many Styles, Blues/Rock Improvisation,Riffs: Volume One, and a few more currently in production. In his freelance pursuits, he's played guitar for the national touring companies of many contemporary musical theater productions such as Rent, Aida, Mamma Mia, Grease, Joseph and the Amazing Technicolor Dreamcoat, Copacabana, and many others. Today Jon frequently performs and records with theBoston Pops Orchestra, and has been involved in a plethora of concerts and recording sessions, including 6 CDs (two of which were Grammy nominated), 8 US concert tours, and one tour in Asia.
Joe Santerre – Bass
Joe plays a six-string bass. His nickname in the band is "The Bass God." To compensate for the lack of rhythm guitar, he's forged a new bass technique where he employs both hands on the fingerboard—each hand playing a different part. Joe has taught at Berklee College of Musicsince 1985. He is also very well known and respected for his abilities. Besides the Jon Finn Group, Joe is one of the most in-demand bassists in the Boston area, doing both sessions and freelance live work. When Joe released his first solo CD, Straight Shooter, it was very well received by lovers of bass music. Joe has written several articles for Bass Player Magazine and Bass Frontiers. Joe has recently released a second solo CD on Audio Image called The Scenic Route.
Larry Finn – Drums
Though he has no relation to Jon, the musical rapport he and Jon create together is a reflection of Larry's unique, empathetic, and enthusiastic drumming style. Larry is one of the most popular drum instructors on theBerklee College of Music faculty and a very well-known freelance drummer with credits ranging from The Courage Brothers and Tiger Okoshi toRent. Recently, Larry released an instructional drumming video calledAccelerate Your Drumming for Rittor Music that has brought his personal drumming style acclaim all over the world.
Ross Ramsay – Keyboards
Ross Ramsay is a born musician. He is one of those players that makes the most difficult and elusive music seem effortless. He can span the range from Rachmaninoff to Ellington to Keith Emerson with equal authority and passion. Ross also plays guitar, drums, and bass very well. Since joining the Jon Finn Group, he has added a touch of class and range of texture the band did not previously have. When Ben Orr of The Cars did his comeback tour, he called Ross to handle the keyboard chores. Today Ross ia a technical consultant for Yamaha keyboards and serves as musical producer for many local rock acts. In the fall of 2001, Berklee hired Ross to join the piano faculty.
Expanded Jon Finn Group
A few years ago, Jon did a concert at Berklee's concert hall where some of their repertoire was expanded with a horn section and some added percussion. At the time, it was considered an experiment. Response from audiences has been extraodinary. some have said this version of the band puts on the most powerful, dynamic, and emotional performance they have ever seen. This version of the band is designed with a "spare no expense" vision meant for major concert venues rather than small clubs. The expanded version of the Jon Finn Group includes:
Jon Finn – Guitar

Don Lappin – Guitar 2

Sarina Suno – Electric Violin

Joe Santerre – Bass

Ross Ramsay – Keyboards

Larry Finn – Drums

Wayne Naus – Trumpet

Dino Govoni – Tenor Sax

Walt Bostian – Trombone

Bob Bowlby – Baritone Sax

Ricardo Monzon – Latin Percussion

Richard Flanagan – Mallet Percussion
This version of the band hopes to records a studio CD within the next year, and a live CD/DVD soon after.
Booking Information
If you'd like to book the Jon Finn Group, please contact us at:
P.O. Box 569
Hanover, MA 02339

Phone: (617) 747-8173

Fax: (617) 747-8558
ξ